0
Meet Our Founders
Stuart Gaffney and John Lewis have been two of the leaders of the freedom to marry movement for over a decade. Together for 30 years, they were one of the first ten same-sex couples to marry legally in the United States in 2004, only to have their marriage taken away by a court six months later. They stood up for themselves as a family, bringing a lawsuit with others against the state of California that resulted in a landmark ruling establishing the freedom to marry in California in 2008. John and Stuart were finally able to marry forever on June 17, 2008, surrounded by family and friends. After Proposition 8 took away the freedom to marry in California later that year, John and Stuart as leaders of Marriage Equality USA contributed to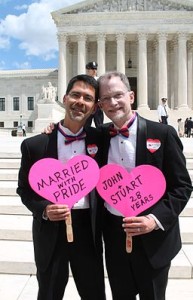 the successful effort to restore that freedom in California and bring marriage equality to all Americans nationwide. As an attorney, John was the lead author of friend of the court briefs to the United States Supreme Court in the landmark marriage equality cases of 2013 and 2015.
John and Stuart are among the most visible faces of the freedom to marry movement. They have become international spokespeople, appearing on NPR, Fox News, CNN, PBS News Hour, and international media from China to Italy to South America. They have spoken at numerous community events, given academic lectures, and conducted workshops across the U.S. and  in places ranging from Japan to Slovakia.
John and Stuart's story is one of commitment, love, and creating positive change in the world. They have offered the truth of their lives to make the world a better place for same-sex couples and to foster connection between the lives of lesbian and gay people and the public. An iconic photograph of them represents the gay rights movement in the exhibit "The Power of the Image" at the National Newseum on Pennsylvania Avenue, between the White House and the U.S. Capitol in Washington, DC. They recently received special recognition from the United States Congress for their efforts.
John and Stuart have also been leaders in Asian Pacific Islander Equality. Their family story is not only about gay rights; it's about universal equality. This is not the first time their family has found itself amidst an historic struggle for equal marriage rights. Stuart's mother, who is Chinese American, was only able to marry his father, who is English and Irish, because the California Supreme Court over 60 years ago became the first state supreme court in the nation to overturn a ban on interracial couples marrying. Stuart's family became legal in all 50 states only in 1967 when the US Supreme Court overturned all such laws nationwide in the landmark Loving v. Virginia decision. In 2007, John, Stuart, and their family were invited to speak with members of Congress at the 40th anniversary commemoration of the Loving decision at the United States Capitol.
Stuart and John have devoted countless hours to community organizing, research and strategy, and direct person-to-person outreach.  They have lobbied both the California Legislature and the United States Congress for marriage equality.  In 2004, they traveled across the country as part of the National Marriage Equality Caravan to raise awareness and have direct interaction with people in diverse communities across America. In March 2013, they spoke at the National Freedom to Marry Rally on the steps of the United States Supreme Court.
John graduated from Stanford Law School (Order of the Coif – top 10% of class) and clerked for Chief Judge Emeritus Thelton E. Henderson of the United States District Court for Northern California, before practicing employment, public, and constitutional law.  He litigated some of the first AIDS discrimination cases in California in the late 1980s and is a co-author of Learning By Heart: AIDS and Schoolchildren in America's Communities.    Most recently, he has served as Legal and Policy Director of Marriage Equality USA.
Stuart is a graduate of Yale University and a Public Health Policy Analyst at the University of California, San Francisco.  He is also an award winning filmmaker, whose short films and videos have shown at festivals worldwide, and is a contributing author to War Baby/Love Child, which examines the works of mixed-raced artists.  He served as Communications Director of Marriage Equality USA.
John and Stuart both grew up in the Midwest and then lived on the East Coast, before coming to California approximately 30 years ago.
(Photo by Elvert Barnes)